---
Buttigieg asks for funding to study the use of female crash dummies in car crash testing. 
---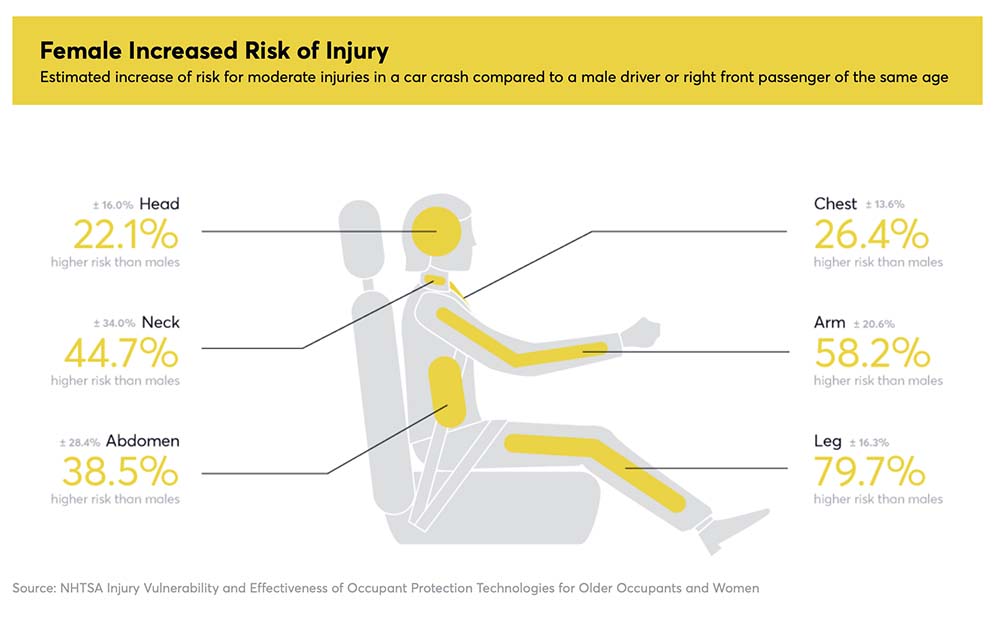 ---
An extensive study by Consumer Reports concluded that crash testing is biased. The National Highway and Transportation Safety Administration (NHTSA) testing is biased against women. These issues are the result of bureaucratic inertia and years of testing discrimination. The result is no female crash dummies being used.
One-sided test results result in a disproportionate number of females injured and killed in automobile accidents. Where male-specific crash dummies have been used for decades, no universal female crash dummies exist. And if, today, regulators decide to begin testing with female dummies, it would take at least a decade to include females in test data.
The game is on again for the introduction of female crash dummies into federal government safety testing.
This story has been updated from 2019 when it was published as a push to get more female crash dummies included in auto testing. Travelers United met with scores of staffers on the House Transporation and Infrastructure Committee and on the Senate Commerce Committee. Most of these staffers have moved to new positions in the government and with the transportation industry. However, there are strong committee memories of earlier battles. Late last year, we republished the story.
Democratic Del. Eleanor Holmes Norton, the District's non-voting representative in the House, introduced a bill to get greater gender parity in crash-test dummies during the last Congress. Now it has been introduced again as part of the Department or Transportation's (DOT) safety initiative. Rep. DeLauro, according to a Fox News story last week, has praised Buttigieg's plan.
Rep. Rosa DeLauro, D-Conn., turned heads Thursday by stressing the need for "female dummies" in car crash testing during a congressional hearing.

During the House Appropriations Committee hearing on the Department of Transportation budget, DeLauro used her time to praise Transportation Secretary Pete Buttigieg's initiatives to rectify the "gender inequity" among crash victims.

DeLauro singled out the "use of female dummies" for roadway crash testing as one of these Buttigieg initiatives she supports. …"This will start to fight the gender inequity among vehicle safety and crash victims."

More than a year ago, DeLauro, along with other Democratic Party lawmakers, wrote a letter to Secretary Buttigieg requesting that his department take "additional measures to protect women drivers by requiring the use of accurate, up-to-date female crash test dummies in NHTSA's [National Highway Traffic Safety Administration] New Car Assessment Program (NCAP) and Federal Motor Vehicle Safety Standards (FMVSS)."

According to the lawmakers' letter, the current female dummies "most commonly used by NHTSA in tests are simply scaled-down versions of the male dummies, which are based on the measurements of an average-sized male from the 1970s."
Women are not smaller physiological versions of men.
Men and women do not face the same dangers in automobile crashes; they are very different. The crash dummies used in car-crash testing have always been based on males. The current testing dummy is based on the 50th percentile of males in the population. Female crash dummies are rarely used as drivers.
A 171-pound, 5-foot-9-inch male dummy represents the driver and passengers. It was first standardized in the 1970s (today, the average American man is about 26 pounds heavier), according to Consumer Reports.
An average adult female crash test dummy simply does not exist, despite the fact that women obviously drive to work, take road trips, and ride in cars with friends, and even though female bodies react differently from male bodies in crashes. That absence has set the course for four decades' worth of car safety design, with deadly consequences.
…
A 2019 study from the University of Virginia (UVA) shows that for a female occupant, the odds of being injured in a frontal crash are 73 percent greater than the odds for a male occupant. That's controlling for occupant age, height, and body mass index, in addition to collision severity and vehicle model year.
Right now the NHTSA is developing these female dummies.
Right now, women crash dummies are not tested as drivers, even when 50 percent of drivers are women.
The testing does not match with reality. Government regulation is the only way that experts see the system as changing. Change will come with modified laws. The Federal Highway Administration (FHWA) rules for testing need to be rewritten. Only then will we see dynamic crash testing with average-sized female crash dummies in multiple seating positions, driver side included. The dummy industry and automakers will not make that leap themselves without government intervention.
READ ALSO: Hate more airport taxes? You are not alone
Regulators asked for a female dummy in 1980, and a group of automakers petitioned for one in 1996, but it took until 2003 for NHTSA to put one in the car. Even then, it's just a scaled-down version of a male dummy that represents only the smallest 5 percent of women by the standards of the mid-1970s — so small that it can work double-duty as a 12- or 13-year-old child. No dummy takes into account the biological differences between male and female bodies.

Frontal crash tests performed for both NHTSA and the Insurance Institute for Highway Safety (IIHS) don't use female crash dummies as drivers. The female crash dummy either rides as a passenger or doesn't participate in the test at all. (The female dummy sits in the driver's seat for some side-impact tests.) This continues even as women represent almost 50 percent of drivers in the US, according to the FHWA.
Change, unfortunately, takes time
Creating a female crash dummy will take time — 

20 to 30 years of

biomechanical

research and testing

There are no real short-term solutions.
Few female dummies are tested as drivers.
Females are more likely to suffer head injuries on side impacts.
Female bodies react differently from male bodies in crashes.
Software programs are used to create the danger women passengers and children face.
The airbag lesson showed the industry can move quickly on its own. "In the late 1990s … safety regulators and researchers took just two years to fix an airbag issue that was killing children and smaller women."
According to Gillan, president emeritus of Advocates for Highway and Auto Safety, part of the reason for the swift action on airbags was a clear, perceptible harm. 

"When all of a sudden you saw these people being injured by a safety technology that was supposed to save their lives, I think there was just so much public outcry," she says. "You have all the elements coming together where you had a problem of children being injured, public opinion, congressional interest, and a legal system that was not going to let this continue. You had all the elements for action."

By comparison, even though more than 10,000 women were killed and over 1.4 million women were injured in car crashes in 2017, Gillan says that the issue of higher injury and fatality risks for women is difficult to publicize. That may explain why studies like Jason Forman's, [a principal scientist at UVA's Center for Applied Biomechanics,] grab headlines every few years before fading away.
ALSO ON TRAVELERS UNITED: How to know when driving is better than flying
When safety regulations only deal with harm to 50 percent of the public, there is a problem 
The Consumer Reports study notes, "If regulators do decide to make a change, Astrid Linder, Ph.D., a professor at Chalmers University in Sweden and the research director of traffic safety at the Swedish National Road and Transport Institute, estimates that we could have an average female crash test dummy included in official crash tests by 2030. This assumes it would take two to three years to formulate a new regulation and about five years to change test protocol."
It is time that Congress takes action. More than 40 years of bureaucratic inaction is enough.
Charlie Leocha is the President of Travelers United. He has been working in Washington, DC, for the past 14 years with Congress, the Department of Transportation, and industry stakeholders on travel issues. He was the first consumer representative to the Advisory Committee for Aviation Consumer Protections appointed by the Secretary of Transportation from 2012 through 2018.